Lip Augmentation
Wake Plastic Surgery proudly serves Cary, Raleigh, and the surrounding areas.
The lips are an extremely important part of the human face. Most people consider a full lip to be more aesthetic and youthful than a thin one. As we age, the lips tend to lose volume. Restoring volume or just adding volume is a popular procedure chosen by both young and older patients.
Lip Augmentation Highlights
1 Week
out of work

4-6 Week
Recovery Period

Care Credit Financing
as low as $111 for
36 months

Starting Cost
$4,000
Why choose Wake Plastic Surgery?
A poorly augmented lip is probably one of the most obvious signs of plastic surgery gone bad. Patients that have too much filler or incorrectly placed lip implants can look quite unusual. Wake Plastic Surgery has a much more conservative approach and wants all of our patients to leave with an enhanced, but natural appearance. The board-certified plastic surgeons and our talented nurse injectors are well versed in natural lip enhancement and he was the first in the area to offer the Surgisil Permalip implant.
Our Lip Augmentation Results
What products are used for natural lip enhancement?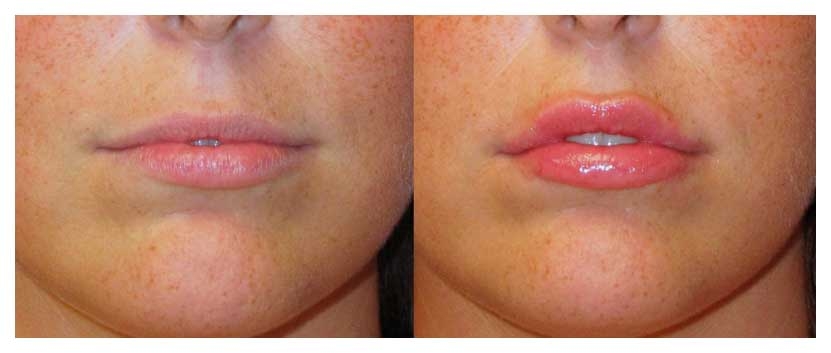 Juvederm injected into both the upper and lower lips
Dermal fillers
The most common method of adding volume to the lips is using dermal fillers. Two of the most common products are Juvederm and Restylane. These are hyaluronic acid based products that can produce a natural and safe result in almost all patients. Several years ago, lip injections were quite uncomfortable and dental blocks were often used to make the procedure tolerable. But most of the injectables now contain local anesthetics and the injections are much less uncomfortable. The only significant downside to injectable fillers is that they are not permanent. The lips have a relatively high rate of blood flow and metabolism. As a result, repeat injections are needed about every 4-6 months to maintain the desired effect. The key to dermal filler lip enhancement is to avoid over-correction and the "duck lip" appearance. Although the procedure is relatively straightforward, there is an art to avoiding an obvious and unnatural result.

AP view of 4mm implants placed in both the upper and lower lips
Surgisil Permalip implant
There is a long history of poor acting products that have been used to try and permanently increase lip volume. Older generation implants and silicone products are notorious for causing unnatural and even damaging results. The Permalip implant is the answer to these problems and has been proven to be safe, natural, and reliable. The implant is smooth, soft, and natural. The surgery to place the implant only takes about 20 minutes and is completed with just local anesthesia. There is minimal down time and patients report that they almost forget that they have the implant after about 2-3 months.
How long is the down time?
Dermal fillers look quite good several hours after they are injected. There is always a chance that bruising develops, but it is the exception and not the rule. The permalip implant is placed using local anesthesia with a procedure that takes about 20-30 minutes to complete. Most patients have some minor bruising and swelling for a few days, but look normal for their 1 week follow up visit. Ideal results are seen at about 2 weeks after the procedures.
How long do the results last?
Dermal fillers last anywhere from 2-10 months depending upon how a patient's body metabolizes the products. The lips have a high density of blood flow and fillers don't last as long in the lips as they do in other places on the face. Most patients report sustained results for at least 3 months and a few report noticing an improvement that last up to a year. Permalip implants do not resorb and the results are permanent.
Schedule A Consultation
View Photo Gallery