Botox Busters
Posted March 28, 2022 in BOTOX® Cosmetic, Injectables
Did you know that in the 1960's, Botox was originally used to treat patients' suffering from "Strabismus", a condition when the eyes are not aligned properly. Botox was then used in small doses to treat muscle spasms in different areas of the body with success. Years later, it was realized that Botox had an unintended effect of dramatically reducing lines and wrinkles in the "glabella", which is in between the eyes. Just like that, Botox Cosmetic was born.
Fun Fact – Botox is actually a brand name! Botox was the first and only FDA approved treatment for temporary improvement in the appearance of forehead lines, crow's feet and the 11's in between the eyes. There are other types of neurotoxins on the market, but these cannot be compared to Botox as they are different.
Botox is not just a luxury treatment that only celebrities get, it is a standard procedure available for everyone 18 years or older. People get their Botox regularly just like getting their hair or nails done. There is such a stigma surrounding injectables – let's bust some common Botox myths!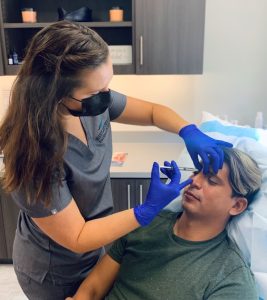 "You must be old to get Botox"
The biggest misconception about Botox is you must be "old" to get it. In fact, Botox is even more effective in your 20's by preventing the lines before they ever occur. Many people wait to start getting Botox until their 40's and by that point, they have deep set expression lines which are harder to soften. We may not have a fountain of youth, but thanks to products like Botox, we can age gracefully!
"You will look frozen and fake"
If someone looks unnatural after a Botox treatment it is most likely due to incorrect dosing or placement. Botox targets specific muscles to relax and reduce exaggerated expressions. It also reduces the pull of the muscles that create lines on the forehead or around the eyes. At WPS, our style of injecting is conservative, aligned with keeping a natural result. We want you to look like YOU, just more youthful.
"Botox is permanent"
Results from Botox injections generally last about 3 months. Retreatment is necessary every 90 – 120 days. Factors such as age, metabolism, when you started getting Botox, and activity level can play a role into how long it will last or how effective it will be.
"Botox results are immediate"
Botox results are subtle and gradual. It first becomes apparent within the first 3-5 days and full results are typically visible after 7-14 days.
"Botox is only for women"
Botox is not gender specific. Many men are opening up to the idea of cosmetic enhancements and are now interested in softening those lines and wrinkles to appear more youthful.
"Botox isn't safe"
People hear the word "toxin" and immediately think Botox is dangerous and you should not put it in your body. Botox Cosmetic (OnabotulinumtoxinA) is a prescription medicine "containing very tiny amounts of highly purified botulinum toxin protein that is refined from bacterium, first identified in 1895. The raw material for Botox is made by growing the bacteria and purifying it to remove bacterial substances, leaving the purified neurotoxin complex."  Botox has been FDA approved since 1989 to treat eyelid spasms and in 2002 Botox received its first cosmetic approval for people 18 years and older. Botox has even been known to help treat things such as migraines, TMJ, and even excess sweating. Over 100 million vials of Botox have been distributed worldwide and Botox has the most FDA approved indications for both cosmetic and therapeutic uses.
What are the risks?
Before getting Botox, it is important to discuss the risks or side effects with your medical provider such as:
Allergic reactions, including rash, welts, asthma symptoms, and dizziness.
Neck and injection site pain
Fatigue
Headache
It is important to find a medical provider that is professionally trained in the use of Botox, as well as someone with a high level of knowledge in facial anatomy. When speaking with your provider it is also important to be aware of any serious or rare side effects of Botox, and let your provider know any current medications you are taking. Here at Wake Plastic Surgery, we only use FDA approved Botox brand from Allergan Aesthetics, a company federally licensed in the United States to guarantee the quality of the product. Be aware that counterfeit or compromised products are out there and can pose a potential health risk to anyone receiving them. Our medical providers are highly trained by Dr. Stoeckel and are registered nurses in North Carolina.
How do I know if I need Botox?
If you have fine lines and wrinkles that are concerning you, it may be the time to start considering Botox. At your comprehensive consultation, your nurse injector, Emily or Kristi, will go over the best plan of action to help you achieve your desired results. You may give us a call or go to our "Contact Us" page on our website to fill out a short inquiry form and begin your injectable journey.