PRP and PRF
The MedSpa at Wake Plastic Surgery proudly serves Cary, Raleigh, and the surrounding areas.
At the MedSpa at Wake Plastic Surgery, we use both PRP (Platelet Rich Plasma) and PRF (Platelet Rich Fibrin) which is the body's own healing serum for rejuvenation. We offer the option to add HA (Hyaluronic Acid) to either procedure for an even greater skin enhancement effect.
PRP Therapy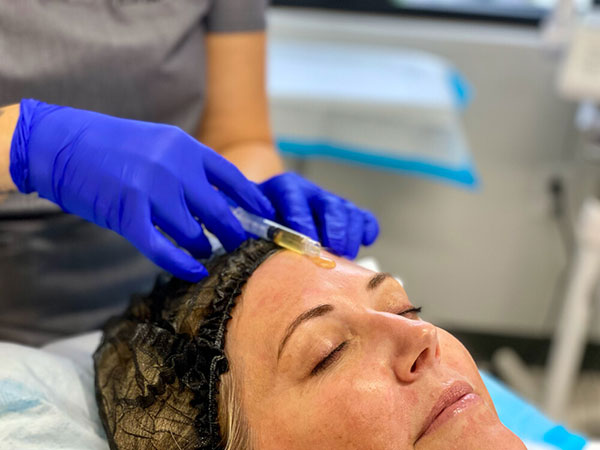 What is a PRP Facial?
A PRP Facial, or the Platinum Facial, is when a patient's own platelet-rich plasma is applied on the skin as a serum during a micro needling treatment. The plasma, or "liquid gold" as we like to call it, contains concentrated growth factors that rejuvenate the skin, improving elasticity and texture, while promoting the production of collagen. It is superior to man-made products used in skincare treatments because of its powerful, natural healing properties.
Is PRP right for me?
The Platinum Facial is minimally invasive and can be performed on all skin tones. It is a great option for anyone wanting to soften the appearance of fine lines and acne scars while improving the skin's texture, tone, and pore size. Due to its beneficial effect on the production of elastin and collagen, patients can expect a more refined complexion following their initial treatment, and an improvement of skin tone over the course of treatments. Areas that are commonly treated with this procedure would include the face, neck, and chest.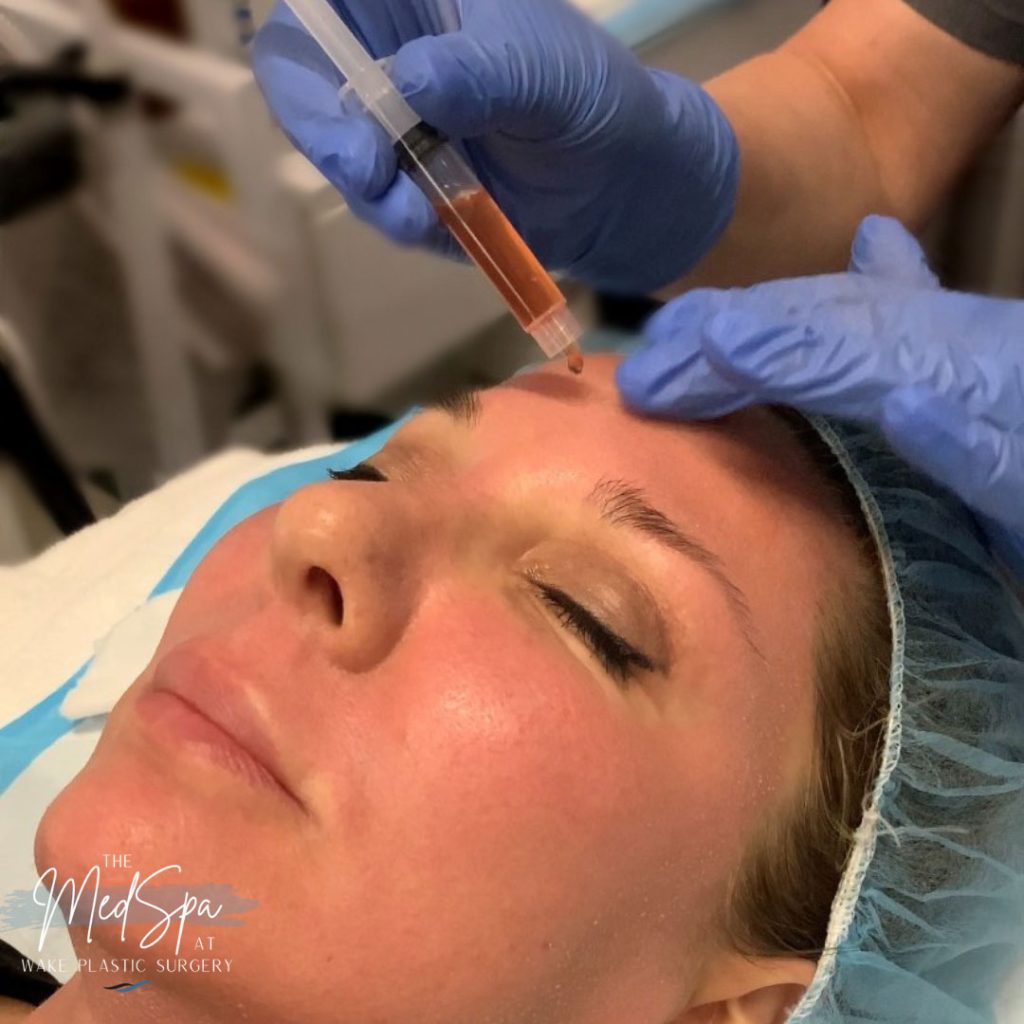 What should I expect during the procedure?
The area will be numbed with a topical numbing cream, so the treatment is virtually painless. While the face is numbing, a small amount of blood is drawn into vials. These vials will be placed into a centrifuge and spun to separate the platelets and plasma from your blood cells. The plasma, which is the top layer in the vial, will then be extracted from the vials and will be used as a serum that will be applied to the treatment area by your medical aesthetician or aesthetic nurse and micro needled into the skin. Due to the high healing abilities of the plasma, the downtime from the Platinum Facial is usually 1-2 days where the skin may be slightly pink.
---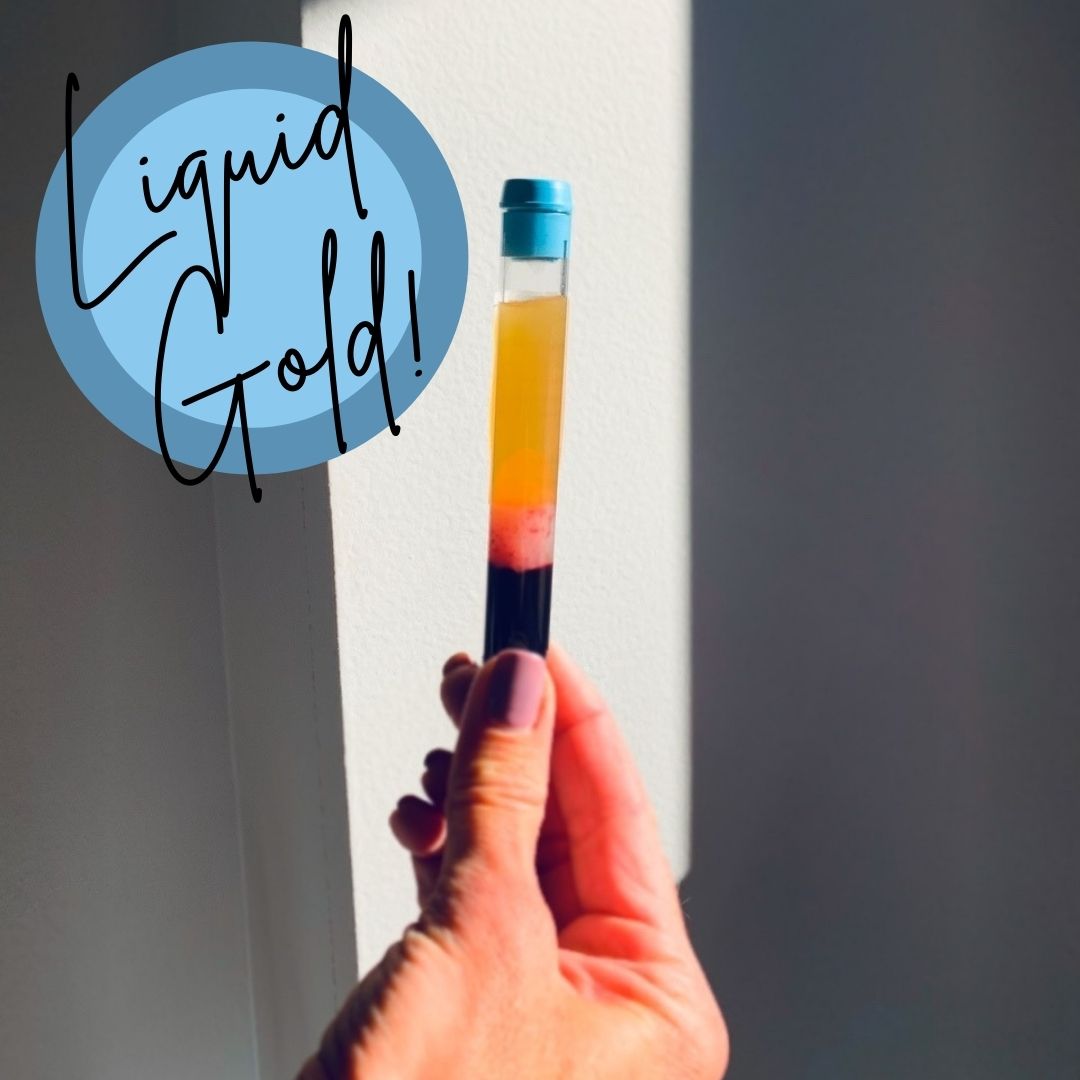 What is PRF?
PRF stands for Platelet Rich Fibrin, which is a portion of spun down blood that is high in platelets and fibrin. Platelets are rich in growth factors and fibrin matrix that builds a stronger scaffolding below the skin. PRF injections are used in the same way as dermal fillers but are performed using a series of treatments spaced 6-8 weeks apart. Long term effects include natural increased collagen production, tightening of the skin, volume restoration, and overall enhanced quality of the skin. PRF can be injected into any area that dermal filler would commonly be used to include the tear troughs, midface, nasolabial folds, and marionette lines around the mouth. This procedure is gaining popularity in the fact that it is using your own body's powerful capability to rejuvenate the skin and underlying tissue naturally.
---
Do I need PRF injections?
If you are wanting to treat deep wrinkles, under-eye discoloration and puffiness naturally, PRF injections are most likely what is needed. The number of treatments would depend on your desired outcome and skin condition. The benefits of PRF injections continue to work below the skin over a period of time and can be used on its own or in conjunction with dermal fillers. Dermal fillers treat lines and wrinkles with immediate results, while PRP will help to work under the skin to rebuild collagen and elastin giving the skin natural anti-aging regeneration.
Schedule A Consultation
Read a PRP Patient Testimonial here!