BOTOX® Cosmetic
Our facial expressions are so important in helping us communicate who and how we are to others. But as we age, those expressions start to leave behind reminders of those good and bad times that we have experienced. Facial rhytids or wrinkles can often convey messages that we are not intending to express to others. BOTOX® Cosmetic can help minimize or eliminate some of these unwanted facial lines and can help us appear less fatigued and more refreshed.
Why Choose the Nurse Injectors at Wake Plastic Surgery?
It seems as if injectables are available on almost every corner now with special deals and discounts at any number of establishments, most of which do not have the supervision of a board certified plastic surgeon. BOTOX® Cosmetic is safe and effective, but there certainly is more risk to these chemicals when they are being administered by someone without the proper training and certification. The nurse injectors at Wake Plastic Surgery have the knowledge, training, and experience and are committed to providing you with the service and results that you should expect. Emily has been a nurse for 15 years, but now is also our most experienced nurse injector. Kristi began her love for skincare more than ten years ago when she became a Licensed Medical Aesthetician. Since then she continued to expand her knowledge base with her CANS certification in 2019 and is licensed in the state of North Carolina as a Registered Nurse.
Schedule A Consultation
What areas of the face are well treated with neurotoxins?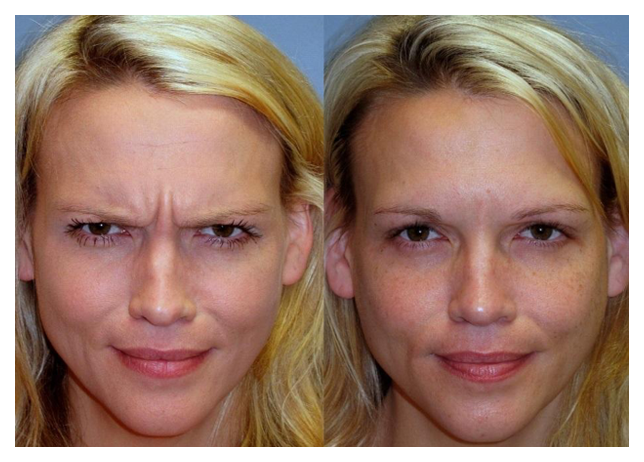 Patient attempting to frown before and after BOTOX® Cosmetic injections to the glabella
Glabella
The glabella is the area of the forehead between the eyebrows. There is a paired set of muscles called the corrugators that function to draw the inner aspect of the eyebrow inward and downward. As we age, the result is the development of vertical lines between the brows often referred to as the "11" lines. Another muscle centered on the glabella called the procerus muscle causes some horizontal wrinkles to develop just above the bridge of the nose. Both of these muscle groups can be relaxed with BOTOX® Cosmetic.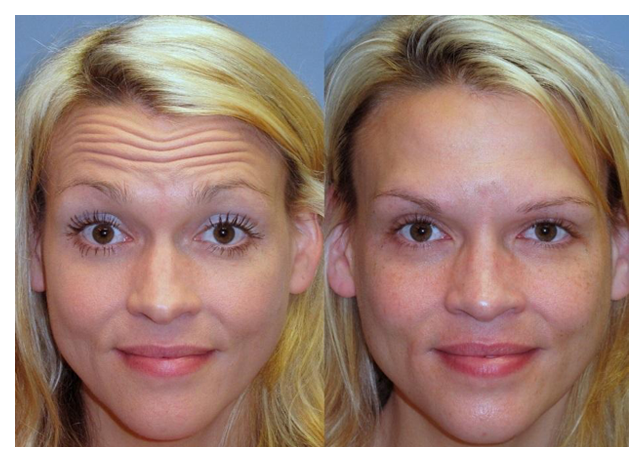 Eyebrow elevation before and after BOTOX® Cosmetic injections to the forehead
Forehead
The forehead has a large sheet muscle called the frontalis that consists of vertically arranged muscle fibers running between the scalp and the eyebrows. When the eyebrows are lifted, horizontal wrinkles become more pronounced across the forehead. These wrinkles can be eliminated with the use of BOTOX® Cosmetic.

Crow's feet
Crow's feet
When we squint, the skin between the eye and the ear gathers. The wrinkles that result are often referred to as crow's feet wrinkles. The severity of these wrinkles increases with age and can be compounded by sun exposure, improper eye protection, and smoking. The muscle that is under the skin called the orbicularis oculi can be relaxed with BOTOX® Cosmetic to soften the appearance of these wrinkles.