Chin Implant and Liposuction
Wake Plastic Surgery proudly serves Cary, Raleigh, and the surrounding areas.
Much of what makes a face attractive to others is balance and proportion. There are proportions to the facial structures that seem to be more aesthetic than others. Many of the proportions are relative to gender, ethnicity, and culture. But in general, stronger chins are typically found to be more desirable than weak chins.
1 Week
out of work

4-6 Week
Recovery Period

Care Credit Financing
as low as $139 for
36 months

Starting Cost
$5,000
Why choose Wake Plastic Surgery?
Our surgeons can complete a chin augmentation surgery with either deep sedation anesthesia or even with just local anesthetics in the Wake Plastic Surgery private surgical suite. We use Implantech facial implants to achieve a natural but enhanced facial appearance.
Our Chin Implant Results
How does chin augmentation improve someone's appearance?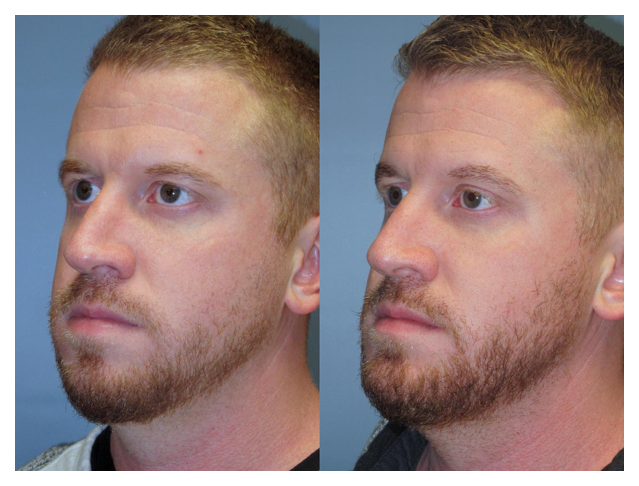 A medium sized chin implant has created a stronger jawline.
Stronger Jawline
For men, a stronger jawline is often considered more masculine. Chin augmentation is a popular procedure for many male patients because of this. The procedure can often create a subtle improvement in overall facial appearance.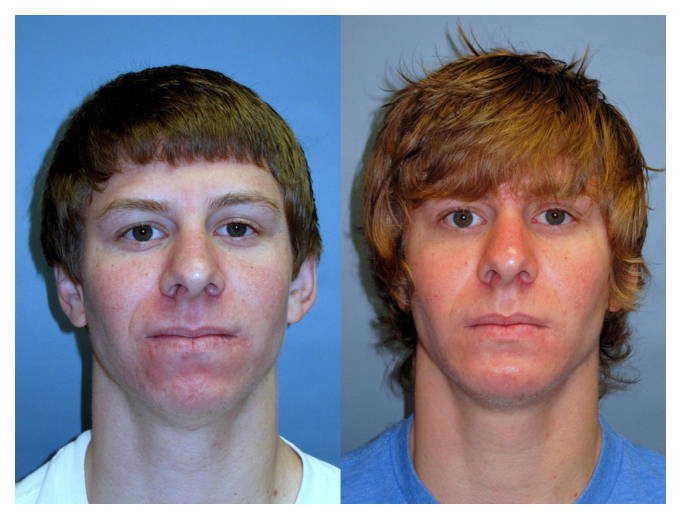 Chin augmentation has restored preferred facial proportions.
Facial Proportions
Chin augmentation can correct the proportions of the face. The proportions of each of the facial features is much more important than the aesthetics of any of the features on their own. Many patients that present to discuss nose surgery find out that the nose is normal, but the chin is weak. Augmentation of the chin can often make a "large" nose appear "normal" because the proportions of the face are corrected. It is actually the proportion of the nose to the chin that is important and not so much whether the chin or the nose is big or small.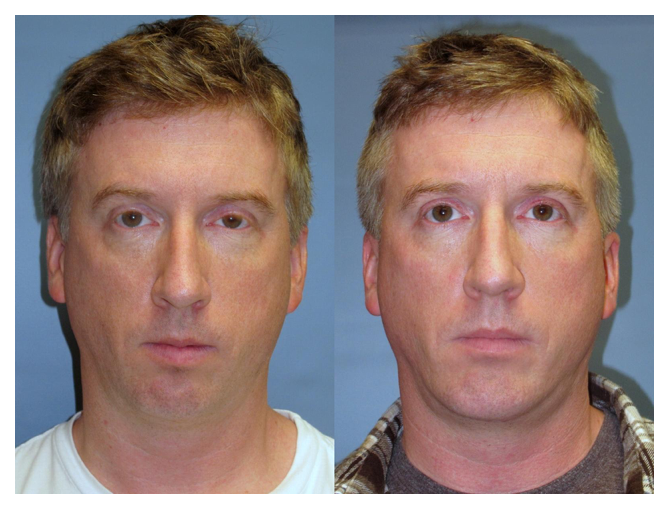 Most people would agree that this patient appears more assertive and confident after his chin augmentation procedure.
More Confidence
Correcting a weak jawline with a chin implant can often make a person appear more confident. People sometimes assume that others with diminutive chins are timid and lack assertiveness. A stronger jawline can often send an impression of higher confidence.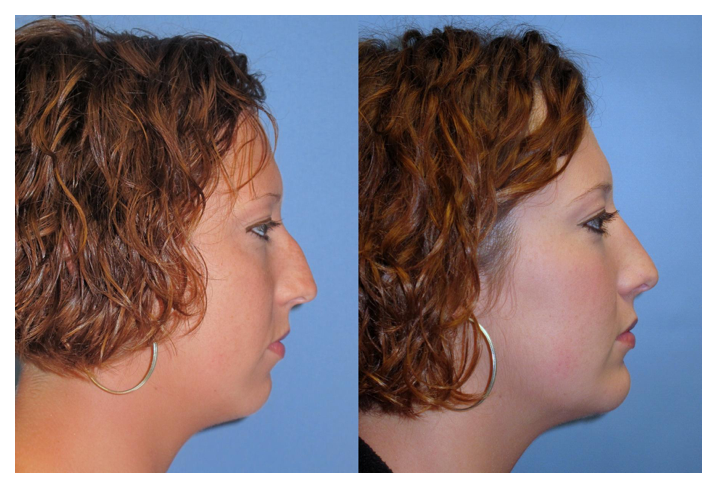 Another example of correcting facial proportions with chin and nose surgery.
Enhance Appearance
For women, chin augmentation can also enhance the appearance of confidence and independence. Chin augmentation is often combined with rhinoplasty surgery; reducing the nose and enhancing the chin can bring facial proportions back into harmony.
Where are the scars and how is the implant placed?
Dr. Stoeckel uses a submental approach for chin implants which places about a 3 cm scar on the undersurface of the chin. Implants can also be placed with an intra-oral approach, which avoids an external scar, but there is a slightly higher risk for both infection and nerve injury. For these reasons, they prefer the submental approach. The scar is very well hidden and difficult to visualize in most patients. The example on the right is a scar that is 1 month old and later at 6 months after surgery.
How difficult is the recovery?
Most patients have very little recovery time. Some patients have bruising that resolves after 7-10 days, but many patient have no bruising at all. The most conspicuous part of the recovery is wearing the compression garment for the first week. Pain is minimal for most patients.
---
Schedule Consultation
Chin Liposuction Highlights
1 Week
out of work

4-6 Week
Recovery Period

Care Credit Financing
as low as $98 for
36 months

Starting Cost
$3,500
Chin Liposuction
Some common questions we hear are, "How do I get rid of a double chin? Are there exercises I can do to lessen the appearance of a double chin?" Unfortunately, for most people the answer is no. Even with a healthy diet and exercise, the extra pocket of fat under the chin is genetic and can be very hard to get rid of. For many people, having liposuction done under the chin is a great procedure to help boost confidence and finally get rid of that stubborn pocket of fat. This helps to define the jawline and take away a bulky and heavy appearance to the face. This procedure is relatively quick and can be performed in an about an hour under twilight anesthesia.
What is the recovery like?
The recovery process for many patients is relatively simple. For the first week, a patient may want to take off work for some "social downtime" as there will be bruising along the neck and jawline, but it can also depend on the job of the person and their comfort level. The pain level after the procedure should be very minimal, and most patients do not need any pain medication for this procedure. Patients are advised to wear a head wrap for the first week to help with healing and swelling.
To read a patient testimonial from someone who had chin liposuction with Dr. Stoeckel, click here!
Schedule a Consultation