Liposuction
Wake Plastic Surgery proudly serves Cary, Raleigh, and the surrounding areas.
There is probably no other procedure that plastic surgeons perform that has seen more innovation in the last several years than liposuction. It is an ever-popular surgery that can very effectively improve body contouring when the right patient is selected. Liposuction is not a substitution for weight loss, but rather a tool to help patients that are having difficulty with "trouble spots" that seem to be resistant to healthy diet and exercise.
Liposuction 360 Highlights
BMI of 30
and below

2 Weeks
out of work

4-6 Week
Recovery Period

Care Credit Financing
as low as $250 for
36 months

Starting Cost
$9,000
Why choose Wake Plastic Surgery?
Our board certified plastic surgeons use the technology of Power Assisted Liposuction or PAL in his practice. PAL involves the use of a quickly oscillating or vibrating cannula to extract the excess fat. The difference between traditional liposuction and PAL is similar to the difference between carving a turkey with a kitchen knife and using an electric knife. There is less effort exerted by the surgeon and less tissue trauma delivered to the patient. This results in a smoother contour with slightly less swelling and bruising during the recovery process.
Our Liposuction Results
What areas can be treated with liposuction?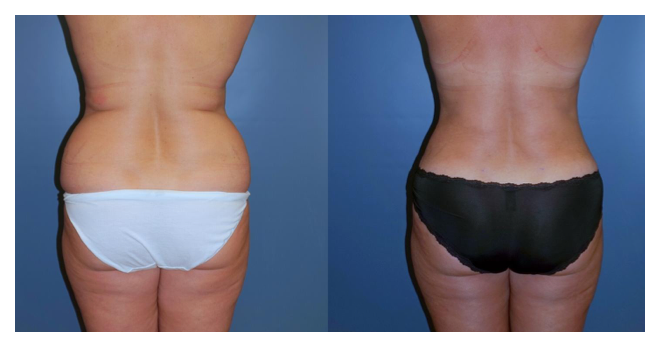 Liposuction of the lower back and flanks
Lower back and flanks
One of the most effective areas of treatment for both men and women is the lower back and flanks. Results in this area are almost always dramatic. It is an area that is often resistant to diet and exercise and the skin in these areas is generally thick which allows for good skin retraction in most patients.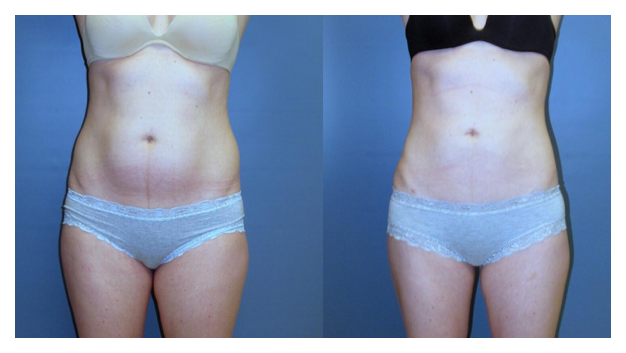 Localized abdominal liposuction. Tummy tuck not required.
Abdomen
The abdomen can also be treated, but the number of patients for whom abdominal liposuction alone is appropriate is lower than most patients assume. If there is redundant skin and a weakened abdominal wall associated with some excess fatty tissue in the belly, a tummy tuck procedure is almost always a better option. But for patients who have some isolated areas of unwanted fatty tissue, the results can be quite impressive.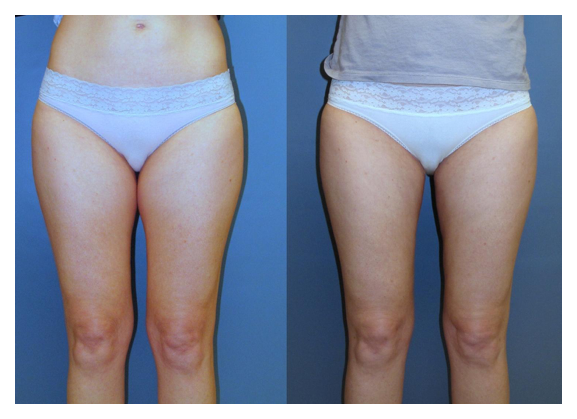 Upper thigh liposuction to create "thigh gap"
Upper inner thighs
Many women seem to collect unwanted tissue in the upper inner thighs. Treatment in this area to create a "thigh gap" can be very satisfying, but needs to be done by a skilled surgeon. Since the skin of the upper inner thigh is so thin, the risk for contour irregularities is quite high. Overtreatment of this area can result in an obviously "treated" appearance.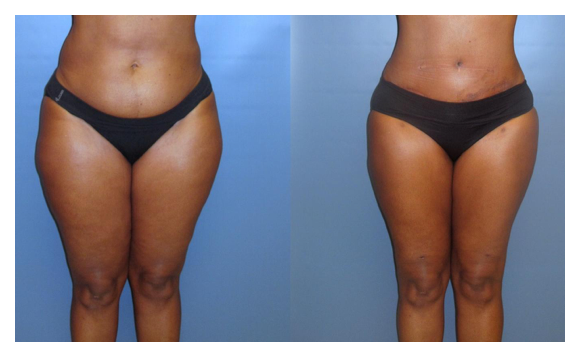 Complete thigh reduction with liposuction
Circumferential thighs
Complete thigh reduction with liposuction is also possible. But there are limits to the amount of liposuction that can be completed safely in each procedure. The thighs have the capacity to hold a significant amount of unwanted fatty tissue. The example below demonstrates the maximum volume of liposuction that can be completed in one setting without requiring an overnight stay at a health facility.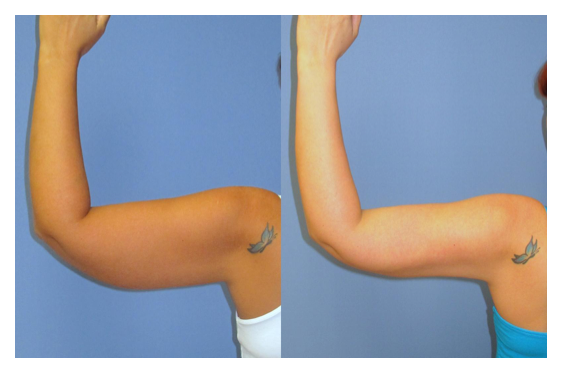 Arm reduction with liposuction
Arms
Arm liposuction is also requested often, but the number of patients who are excellent candidates is relatively low. Although the fatty tissue can be removed, the upper arm skin often does not retract as much as many patients would hope. But for the right patient with the right type of skin, the procedure can be very effective. Patients that need to have skin removed for optimal results should consider an upper arm lift or brachioplasty.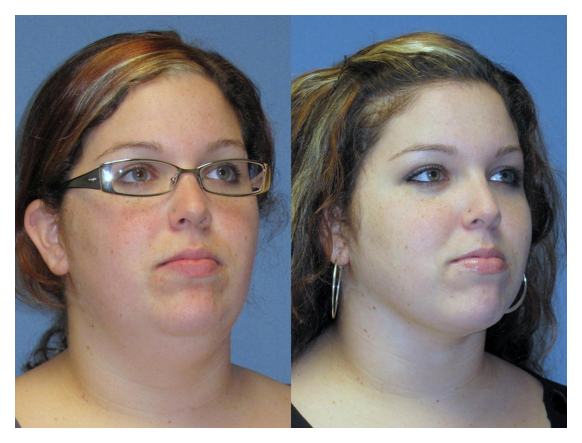 Neck liposuction can dramatically improve facial aesthetics
Neck
Neck liposuction can often have a dramatic effect on a patient's overall appearance. Neck liposuction can often be completed with just local anesthetics and the downtime is typically quite short. The skin retraction after neck liposuction is typically quite good, especially in younger patients.
How difficult is the recovery process?
The recovery from liposuction varies greatly from patient to patient. Some have very little swelling, bruising, and discomfort while others have a different experience. Most patients do not experience much pain, but certainly experience being quite sore.  The results are immediate, but they continue to improve dramatically for several months after the procedure as the swelling and inflammation subside.
Are compression garments necessary after surgery?
There really is no scientific proof that compression garments are necessary for great results, but it seems that they help some with the initial swelling immediately after surgery. We suggest wearing the compression garments that are provided with the surgical procedure for about 2 weeks after surgery.
What can be done after surgery to speed up the healing process?
Scientific evidence is also lacking to support the use of vitamins or supplements to assist in the recovery after liposuction or any surgery. Most patients that eat a normal healthy diet have plenty of vitamins and co-enzymes to heal from surgery and additional supplements do not have much or any effect in making things heal faster. With liposuction, there is often a thin film of blood that collects under the skin that feels like "silly putty" in some areas. These areas are often tender to the touch and a bit swollen. Our surgeons have found that vibrating massage can help speed up the process by which the body normalizes these areas and we provide a hand held massager for all of our liposuction patients to use. In addition, our lymphatic and therapeutic massage treatments have received rave reviews since implementing them into our practice.
Schedule A Consultation