Breast Reduction
Wake Plastic Surgery proudly serves Cary, Raleigh, and the surrounding areas.
Breast reduction illustrates the essence of cosmetic and reconstructive plastic surgery. The removal of excess breast tissue can help balance body proportions and improve the aesthetics of the breasts. And at the same time, it can reduce or eliminate back and neck pain symptoms that are often the result of redundant breast tissue weight. Many patients also have improvement in headache pain, are able to more effectively exercise, and can function more effectively in social situations.
At Wake Plastic Surgery, we are now only offering cosmetic surgeries and are no longer in network with any insurance plans, nor scheduling insurance-based appointments, but most patients are pleasantly surprised that the out of pocket costs are not as much as might be expected at Wake Plastic Surgery.
Our Breast Reduction Results
Breast Reduction Highlights
BMI of 32
and below

1 Week
out of work

4-6 Week
Recovery Period

Care Credit Financing
as low as $292 for
36 months

Starting Cost
$10,500
What conditions can breast reduction surgery improve?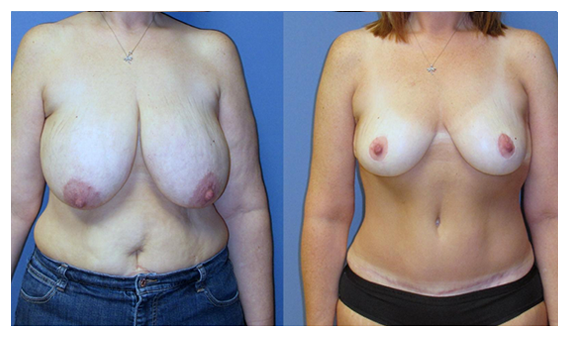 Gastric lap band patient who had breast reduction and abdominoplasty surgery
Effects of massive weight loss
Many patients that have undergone significant weight loss notice that much of their heavy breast tissue remains even after they have reached their weight loss goals. The breast and body skin is often quite lax. These patients often combine a breast reduction surgery with other skin removal surgeries such as a tummy tuck.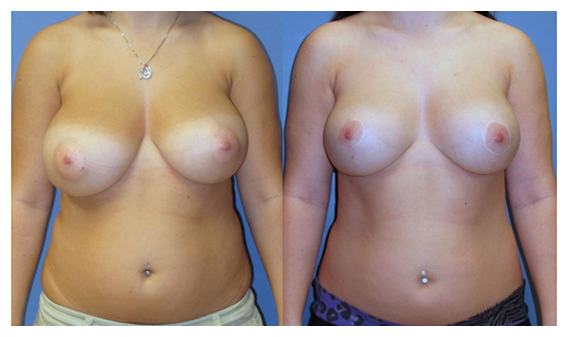 Right breast reduced slightly more than the left
Breast asymmetry
Almost all women have one breast that is slightly larger than the other. When the asymmetry is significant, breast reduction surgery can correct the disparity in breast size. This can make shopping for both bras and clothing much more pleasant. Although breast augmentation with variable sized implants is also a method of correcting size asymmetry, it is typically not as effective as breast reduction procedures.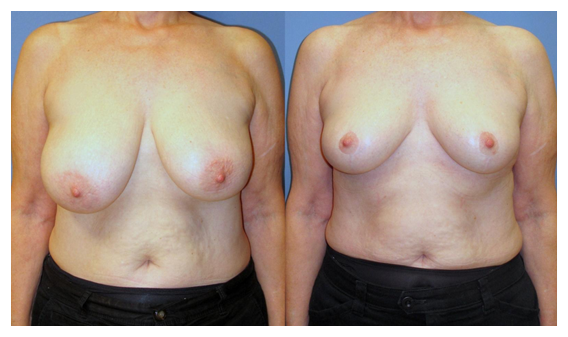 Conservative breast reduction with correction of asymmetry
Slightly too big for body frame
Some women's breasts are just slightly bigger than ideal and these patients want to undergo a conservative reduction in volume so that they can just feel more comfortable in their own skin. Many of these patients have back and neck pain symptoms, but many of them do not. A conservative reduction can still make a large impact on improving quality of life.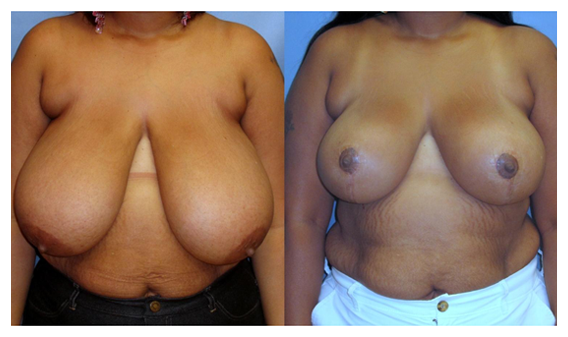 Removal of over 5 lbs of breast tissue with vertical reduction procedure
Severe breast hypertrophy
Others have breast sizes that are almost debilitating and completely out of proportion to the rest of their bodies. Breast reduction surgery for these patients can be truly life changing. Many patients with severe hypertrophy have back and neck pain symptoms that completely alleviated with the breast reduction surgery.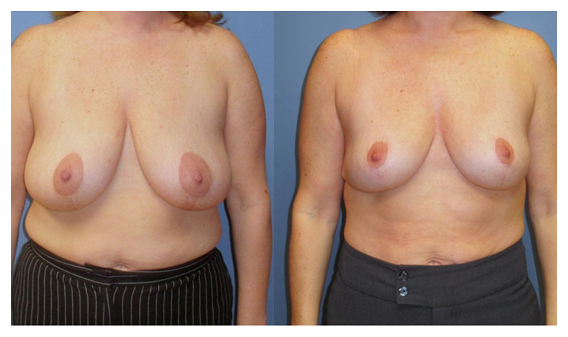 Repeat breast reduction 20 years after a Wise pattern reduction. Notice the improvement in shape and areolae size with the vertical technique.
Recurrent breast hypertrophy
Most patients that have breast reduction surgery have permanent improvement and results. But some breast reduction patients find that after either weight gain or pregnancy, their unwanted breast volume can recur. Repeat breast reduction surgeries can be completed safely and the vertical technique can be used even if another technique was used for the first reduction.
Can breast reduction alter nipple sensitivity?
Breast reduction surgery rarely causes problems with nipple sensitivity. The statistical reports suggest that nipple sensation could be affected in as many as 5-20% of patients, but Dr. Stoeckel sees this issue much less frequently. The chances of altering sensation are more likely with greater tissue resections. But interestingly, in many extremely large reductions, the sensation actually improves. This may be a result of relieving the tension on stretched nerves associated with very large breasts.
Can patients breast-feed after breast reduction?
Breast reduction surgery does not affect breast-feeding in the vast majority of patients. Although inability to breast-feed after surgery is a risk, the vertical technique that our surgeons use typically preserves the milk ducts, glandular tissue, and nervous structures required for breast-feeding. It should be noted that up to 10% of women are unable to breast feed even without having breast surgery.
Does breast reduction affect breast cancer detection or treatment?
Breast reduction surgery does not increase the incidence of breast cancer. The internal scarring from surgery can be seen on radiographs and can minimally complicate the interpretation of mammograms. Dr. Stoeckel recommends obtaining a baseline mammogram for patients over the age of 35 to help minimize this issue. The more important thing for patients to know is that having a breast reduction can certainly affect the choices for treatment if breast cancer is ever detected. Breast cancer patients that have had breast reduction should almost always have a complete mastectomy and are not good candidates for lumpectomy surgery.
Schedule A Consultation