SkinPen Microneedling
The MedSpa at Wake Plastic Surgery proudly serves Cary, Raleigh, and the surrounding areas.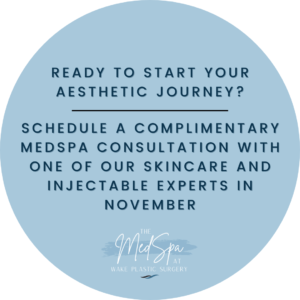 ---

SkinPen (only FDA approved microneedling device) is an amazing technology used to improve wrinkles, acne scars, pigmentation, pore size and overall texture issues on the face, neck, décolleté, hands and abdomen.
What is Microneedling?
SkinPen utilizes precisely spaced micro needles in a small cartridge to create invisible, vertical, micro perforations into the top layers of the skin. As a result the skin shifts its natural repair mechanism into high gear and starts producing collagen and elastin. The self repairing property of the skin is a 100% natural form of skin renewal.

---
Is Microneedling Right For Me?
The device is approved for use on all skin types. The advantage of the SkinPen compared to other treatments is that it not only activates cell regeneration, it also enhances the absorption of active ingredients into the skin during the treatment before the skin closes. Your skin becomes firmer and regains its elasticity, fine lines and wrinkles are visibly reduced, pores become finer, circulation is stimulated and the overall condition of the skin improves.
Minimizes Pore Size
Reduces Fine Lines and Wrinkles
Lifts, Tightens, and Rejuvenates skin, Builds New Collagen and Elastin
Improves appearance of Acne Scarring
Improves Hyperpigmentation
Activates Cell Regeneration
---
What Should I Expect During The Procedure?
Before the treatment numbing cream is applied to the area being treated. The pen is gently glided along the skin surface in combination with a serum. Depending on the size of the treatment area, the process takes about 20-45 minutes. Once the treatment is complete there will be a redness to the skin. Healing time will depend on each individual's response, but usually about 48 hours. Visible changes to the skin continue to develop over several weeks. Although some improvement will be seen after the first treatment, a series of 4 treatments spaced every 4-6 weeks is recommended for ideal results.
Schedule a Consultation