PDO Threads
The MedSpa at Wake Plastic Surgery proudly serves Cary, Raleigh, and the surrounding areas.

What are PDO threads?
PDO is the common name for Polydioxanone, which is an absorbable synthetic monofilament. Each thread is thinner than a strand of hair. It can take about 4-6 months for the threads to be absorbed by the body, and during this process the threads will stimulate new collagen and elastin in the skin. Collagen and elastin act as the support structure for the skin and PDO threads can help strengthen that support structure, with visible results lasting 12 to 16 months. The threads that we use at the MedSpa are 10-20 times stronger than competing brands, which allows for longer lasting and superior results.
---
Schedule a Consultation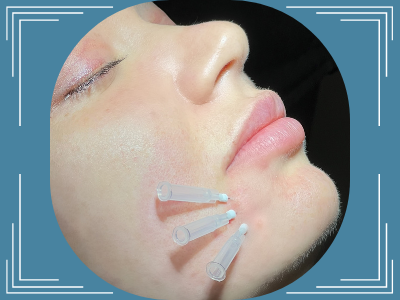 Which type of threads do we use at Wake Plastic Surgery?
We use FDA cleared PDO Smooth Threads by V Soft Lift.  PDO Smooth threads do not have barbs and are able to easily glide under the skin, making the treatment as comfortable as possible. During the treatment with PDO Smooth threads, a single thread is injected under the skin which creates a micro injury in the skin. This micro injury prompts the body to add structural proteins like collagen and elastin, which results in plumper and more youthful looking skin. Rather than immediately lifting sagging skin, like barbed PDO threads, Smooth PDO threads are more subtle and work over time to lessen the appearance of tired skin and crepey texture. Some of the areas that can be treated include the upper lip, under the chin, around the mouth, cheeks, crow's feet, frown lines, and nasolabial folds.
---
Why choose the Med Spa at Wake Plastic Surgery?
Our nurse injectors have the experience and qualifications that allow them to achieve optimal results for aesthetic procedures in a safe and inviting environment.  It is important to use only highly trained medical professionals with an RN degree or higher to perform the PDO thread procedure or any injectable procedure in the safest, cleanest environment possible.
Read our FAQs about Smooth PDO threads here.
Meet our two expert nurse injectors here.