Tummy Tuck
Wake Plastic Surgery proudly serves Cary, Raleigh, and the surrounding areas.
Tummy tuck surgery is one of the highest patient satisfaction procedures that Dr. Stoeckel performs. It is a dramatic way to correct the changes that often occur after significant weight loss or pregnancy. The classic procedure accomplishes two major goals. The first is to tighten the abdominal wall muscles (rectus abdominis) and correct the separation of those muscles (rectus diastasis) that is often seen during and after pregnancy. The second is to remove the excess skin and fatty tissue from below the belly button to create a tighter and smoother contour to the abdomen.
BMI of 30
and below

2 Weeks
out of work

4-6 Week
Recovery Period

Care Credit Financing
as low as $278 for
36 months

Starting Cost
$10,000 - $10,750
Why choose Wake Plastic Surgery?
Abdominoplasty surgery is one of the top two surgeries we perform. Unlike most surgeons, Dr. Stoeckel completes the surgery using MAC anesthesia without the need for general-anesthesia gases, airway tubes, or ventilators. The recovery is quicker, anesthesia related nausea and vomiting is minimized, there is no risk for sore throats or chipped teeth, and the risk for deep vein thrombosis (DVT) and pulmonary embolus (PE) is decreased. Our board certified plastic surgeons also do not use drains for the typical tummy tuck surgery. Dr. Stoeckel was one of the first surgeons in the area to adopt the drainless tummy tuck surgery in his practice and has taught his technique to other surgeons.
Our Tummy Tuck Results
What are the goals achieved with abdominoplasty surgery?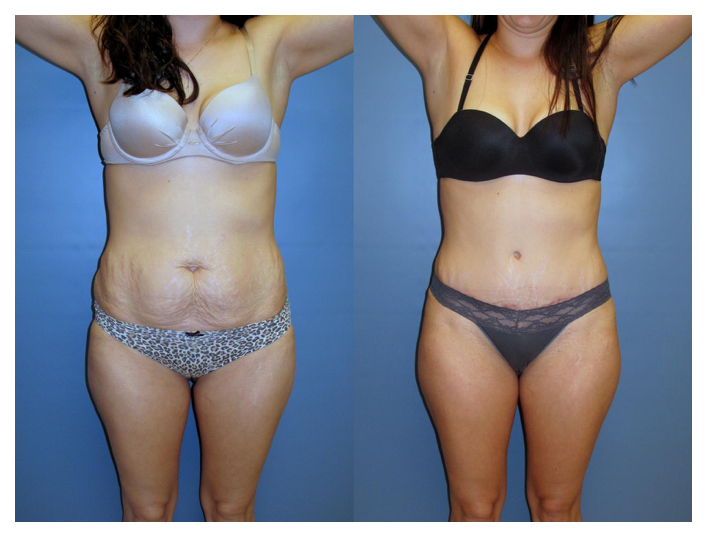 Removal of moderate amount of excess skin
Remove moderate excess skin
Some tummy tuck patients have just enough loose skin in the lower abdomen to be bothersome. The excess skin does not improve with diet and exercise. For many patients, this is a common consequence of pregnancy in which the skin has been stretched beyond its ability to fully recoil. The tummy tuck procedure removes all of the skin between the pubis and the belly button.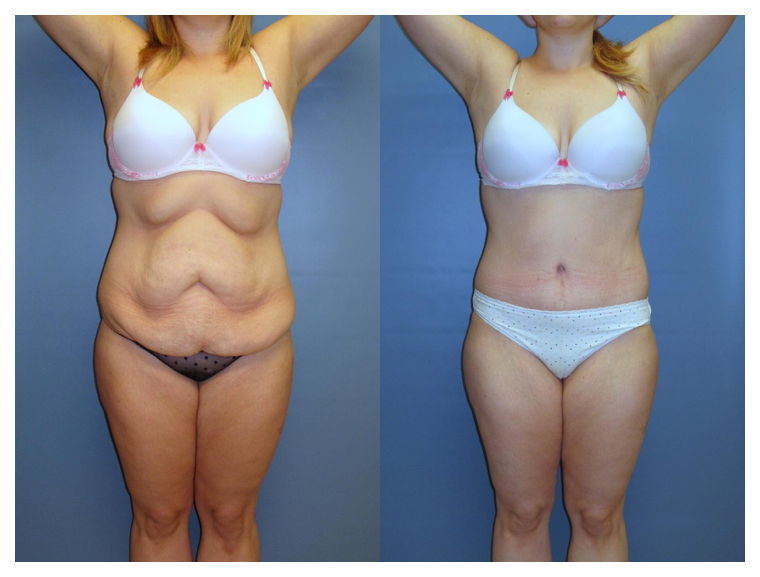 Traditional tummy tuck after massive weight loss
Remove extreme excess skin
Some patients have undergone massive weight loss with either diet and exercise or with the assistance of bariatric surgery. Many of these patients have severe laxity of their abdominal skin that can be dramatically improved with the tummy tuck surgery. Ideally, the surgery is a skin removal surgery and not as much of a fat removal surgery. The best results are obtained when the surgeon is just removing excess skin that cannot otherwise be removed without surgery.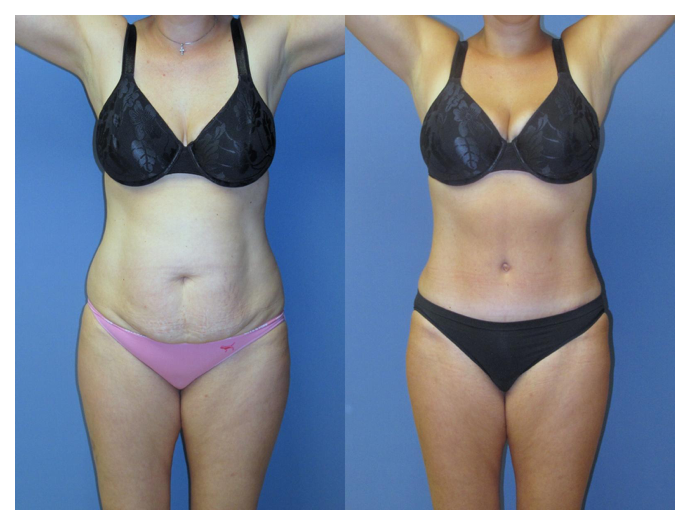 Improved waistline and restoration of normal rectus muscle position
Tightening of the abdominal wall
Almost all tummy tuck patients have some degree of abdominal wall weakness. Women that have had multiple pregnancies and twin pregnancies invariably benefit from abdominal muscle manipulation. When the rectus abdominis muscles separate in the midline to allow for fetal growth and development, they often do not realign themselves exactly as they were before. This separation of the muscle edges is called a rectus diastasis. The tummy tuck surgery can repair this problem using suture techniques called a rectus plication (internal corset). The plication can improve the waistline, correct an abdominal bulge, stabilize the abdominal wall, and even improve back pain for some patients
Who is a good candidate for tummy tuck surgery?
The ideal tummy tuck patient is already in good physical condition. Tummy tuck surgery is not considered a weight loss procedure and best results are obtained when patients have already reached their weight loss goals. We want you to have the best possible results with the fewest potential risks. After careful review of the literature and our own results over the last decade, we have found that patients with a body mass index (BMI) less than 30 have a significantly lower risk of post operative complications with abdominoplasty surgery than those whose BMI is higher than 30. As a result, we use this benchmark for most patients realizing that there are sometimes exceptions to almost any rule. Being at a healthy weight, avoiding smoking, and maintaining a healthy diet are just a few things that you can do to optimize your end result.
How bad is the scar?
Most patients are very concerned about the scarring that is involved with the tummy tuck surgery, and for good reason.  Some patients' scars heal incredibly well and almost fade away after about a year or so. But others remain either darkened or widened and are quite noticeable. The scar with a tummy tuck is placed under a significant amount of tension, even when quilting sutures are used, and different patients respond differently to this tension scar environment.  And different skin types and ethnic skin varieties are more or less susceptible to poor scarring. However, when the surgery is performed properly, the scar should be easily hidden with normal undergarments.  The example on the right is a typical scar 3 months after surgery.
What happens to the belly button?
The belly button or umbilicus is another source of anxiety for many patients considering tummy tuck surgery. There certainly are many examples of belly buttons that no longer appear normal or natural after the procedure. But these are most often a result of the technique used during the procedure. Dr. Stoeckel uses a technique that hides the scar on the inner wall of the belly button and avoids the problematic widened scar of which so many patients are afraid. The belly button is not removed and creating a new one is not required.  It remains in place on the abdominal wall and is brought out through the overlying skin during the procedure.
How difficult is the recovery?
Recovery after tummy tuck surgery is often over-estimated. We typically have patients taking postoperative narcotic medication for only 3-5 days after surgery. Patients are up and walking around the day after surgery, but are restricted from vigorous exercise and heavy lifting. Most tummy tuck patients report that the recovery was actually quite a bit easier than expected.
What is the drainless tummy tuck?
Traditionally, surgeons use drains during abdominoplasty surgery to prevent unwanted fluid collection under the skin called a seroma. During the last several years a technique called progressive-tension-sutures has become popularized. The technique, which is a way of quilting the skin back into place, eliminates the need for drains. Dr. Stoeckel has been using this technique since 2011. It not only allows patients to resume certain activities more quickly, it also allows for reduced tension on the skin closure, which has led to better scar healing. Patients are thrilled to be able to avoid the use of the drains, take a normal shower just 36 hours after surgery, and the risk of seroma formation is extremely low. There is also a psychological advantage of not having tubes hanging from the body after surgery that seems to make the recovery more tolerable and easier to manage.
Schedule A Consultation
What is the Recovery like for a Tummy Tuck?

Tummy Tuck Testimonials
"I was referred to this office by a friend. Dr. Stoeckel and the staff are amazing. My results exceeded my expectations! So happy I decided to go through with my tummy tuck." – Nichole