DiamondGlow
The MedSpa at Wake Plastic Surgery proudly serves Cary, Raleigh, and the surrounding areas.
Just like our customized facials that we offer here at the MedSpa, Diamond Glow treatments are uniquely tailored to your skin's specific needs. Our expert medical aestheticians and aesthetic nurses use the Diamond Glow precision diamond tip to exfoliate, extract pore clogging debris, and infuse the skin with professional-grade serums all at the same time. There are six diamond tips and five serums that can be combined in different ways to pin point and treat exactly what your skin needs.



Is DiamondGlow right for me?
Diamond Glow can be used on all skin types and patients will see noticeable improvement to the clarity and luminosity of their skin after just one treatment. Diamond Glow is a non-invasive treatment, so there is no downtime and you can return to your normal routine right after treatment.
A series of Diamond Glow treatments can target and improve:
• Dull Looking Skin
• Dry Skin
• Hyperpigmentation
• Redness
• Rough Skin Texture
• Fine Wrinkles
• Sagging Skin
• Uneven Skin Tone
What should I expect during my DiamondGlow treatment?
To prepare for your DiamondGlow treatment, please arrive to your appointment with clean skin, absent of make up as we end up taking it off anyway! Your medical aesthetician will begin by cleansing your skin and preparing it for treatment. They will also discuss with you the kind of serums they will be using to infuse into your skin, and they will tailor which serums and diamond tips that are to be used based on your skin's unique needs. The handpiece with the diamond tip applicator will be placed on your skin and start to glide across the neck and face. It will not hurt, but patients have said it feels like a cat tongue is licking you. The applicator will begin to extract and exfoliate the skin, removing debris, sebum, and pollution from the skin and pores while infusing the skin with your custom serums. While not painful, this is one treatment where you may not be able to relax and fall asleep as the machine is slightly noisy.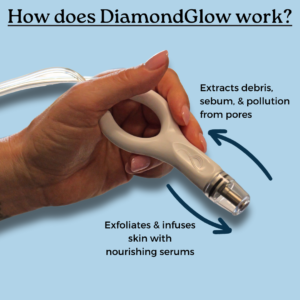 What should I expect after a DiamondGlow treatment?
After your Diamond Glow treatment you can return your normal routine as there is no downtime. After your treatment you can expect noticeably firm, radiant and plump looking skin that feels, clean, refreshed, and exquisitely hydrated.
What is Alle?
We love helping our patients find all the deals! Before your first DiamondGlow appointment, be sure to sign up for Alle, the free rewards program from Allergan the makers of Botox and filler. We can apply points to your account that generate great coupons that you can redeem for future services.
Schedule a Consultation
Sign up for Alle