Nose Surgery
Rhinoplasty or nose surgery is one of the most popular plastic surgery procedures performed in the United States. Noses can be altered to be different sizes and different shapes with a variety of surgical procedures. Rhinoplasty surgery is almost always cosmetic, but can also be functional if a problematic airway can be improved.
Why choose Dr. Stoeckel?
Dr. Stoeckel carefully selects his rhinoplasty patients to ensure that optimal outcomes can be achieved. In addition to his medical school and residency training, he has obtained a Masters Degreee in Anatomical Science. His thorough understanding of the complexity of facial anatomy helps him avoid many of the pitfalls often seen with "bad" nose job surgeries.
Dr. Stoeckel's Nose Surgery Results
What aspects of the nose are commonly treated with rhinoplasty surgery?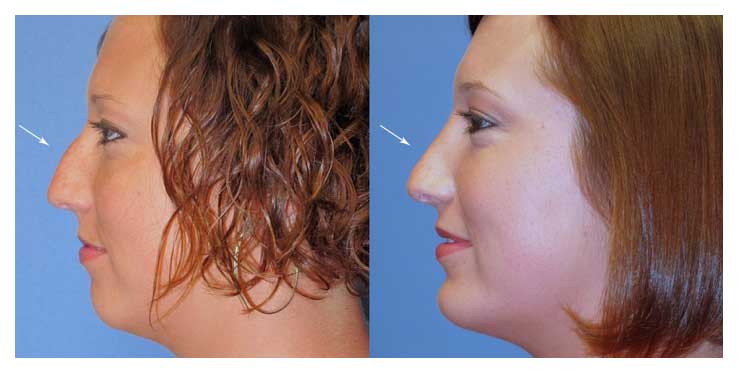 Dorsal hump reduction and chin augmentation
Dorsal hump deformity
A dorsal hump is described as a convexity to the bridge of the nose. The hump can be reduced with the removal of both bony and cartilage tissue. Reduction of the dorsal hump is often combined with a chin enhancement procedure to fully optimize facial proportions.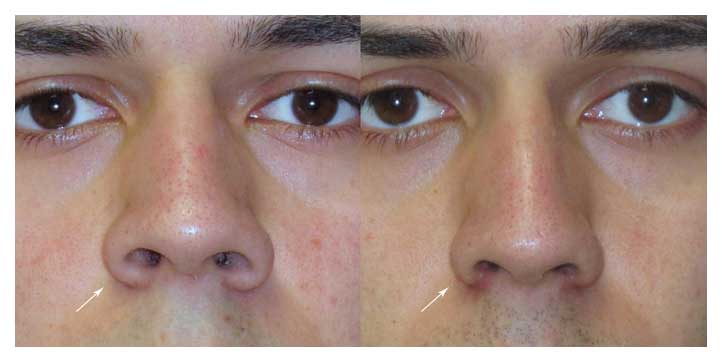 Weir excisions to treat alar flaring
Alar flaring
Alar flaring is a condition in which the nostrils seem to be either too large or are too widely spaced. The nostrils can be reduced in size and brought closer together with a procedure called a Weir excision. This involves the removal of a small wedge of skin from the floor of the nose or from the bottom on the nostril edge.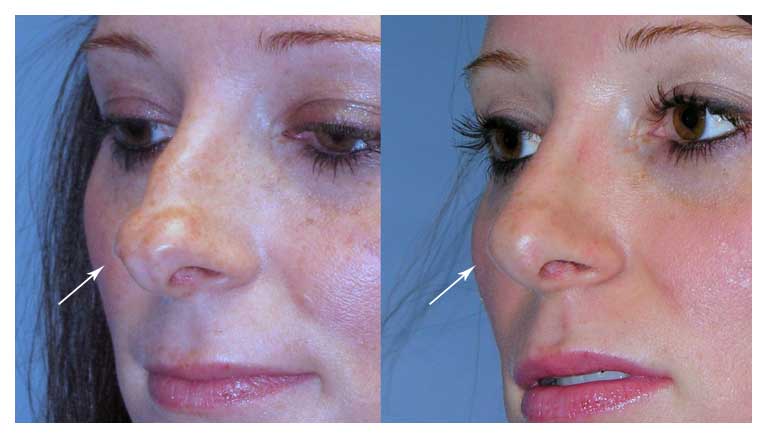 Splayed tip cartilages refined with excision and suture techniques
Abnormal tip cartilages
Sometimes, the cartilage structures that make up the tip of the nose are irregular and uneven. Revision of the tip cartilages can significantly enhance the appearance of the nose. This usually requires an open incision to expose the existing cartilage nasal skeleton. Correction involves the combination of suturing techniques and removal or addition of cartilage with tip grafts.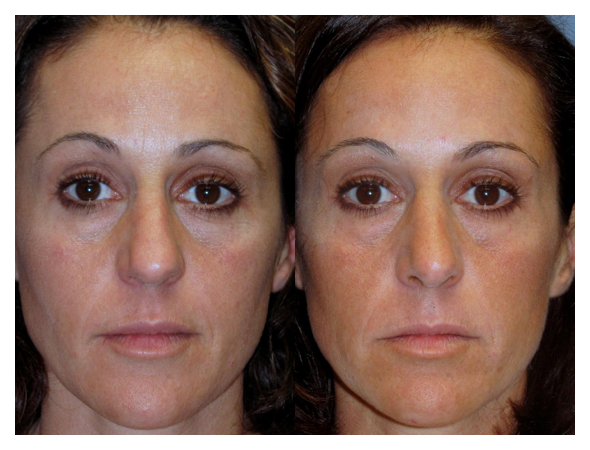 The nose is just slightly smaller in all dimensions and now is better proportioned for her face.
Slightly oversized noses
Some patients only need a subtle improvement or change in appearance. A very slight reduction in width and projection of the nose can improve the overall proportions of the face. These very small changes are often the most satisfying to patients because they don't look dramatically different, just better. Careful and conservative removal of excess cartilage and bone can make a subtle but real difference.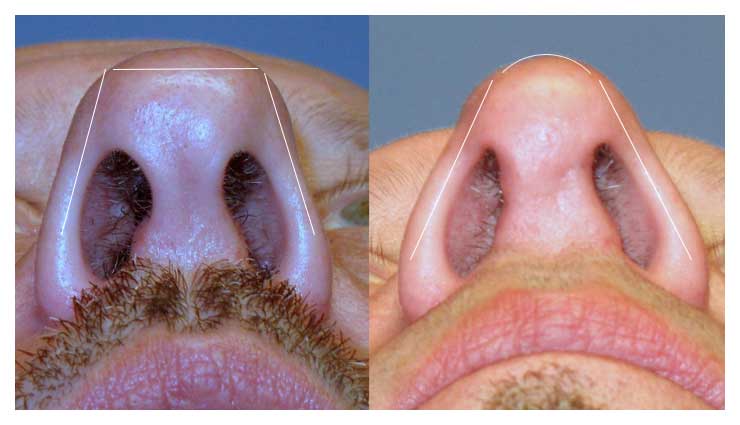 Bulbous tip corrected with an open rhinoplasty
Boxy or bulbous tips
A boxy tip is caused by a lack of definition and structure of the tip cartilages. The preferred shape of the nose on a view from below is a gentle A-frame shape. A bulbous or boxy tip is too broad on such a view. The normal shape of the nose can be restored with several suturing techniques.
How long is the recovery?
The pain associated with rhinoplasty surgery is actually quite minimal. But the swelling can persist for several months. Patients that have had cartilage removed from the septum will require an internal splint for week. Patients that have had reshaping of the dorsum will require an external splint for a week. Most patients continue to see improvement in the appearance of the nose for up to a year after surgery.
Will I have to wear a splint?
Many closed rhinoplasty surgeries do not require the use of a splint after surgery. But most of them do. If the septum of the nose is used to harvest cartilage used for structural support during the surgery, an internal splint is used to support the septum. If any dorsal hump changes are made, an external splint is used. Both splints are removed 1 week after surgery.
Schedule A Consultation