Medical Grade vs. Over the Counter Skincare
Posted September 22, 2021 in Skincare Products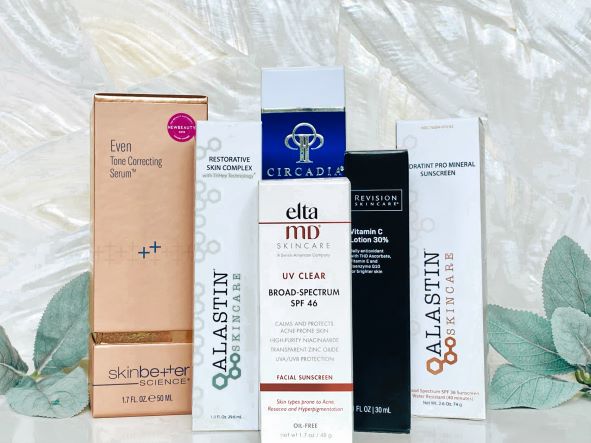 Have you ever wondered what the difference is between an "Over the Counter" (OTC) skincare product and the products you see in a doctor's office or spa? Here is what you need to know!
OTC products are designed to work for everyone, so the concentration of active ingredients is low and contains fillers and ingredients that cause concern, like Isobutane and Acrylonitrile.
OTC products sit on the surface of the skin rather than penetrating it because they only work on the epidermis.  The deep dermis is what must be impacted to make any real change to the skin, and this is where medical grade products are designed to work.
Medical grade skincare products contain a high concentration of active ingredients, and the FDA regulates that medical grade products must have 99.9% of pure active ingredients. They are made to enhance delivery to deeper areas of skin which leads to an actual change in the skin.  OTC products do not have oversight from the FDA and thorough testing is not required. The OTC products can advertise that they have an ingredient such as Retinol, but it isn't truly enough for it to have any effect on your skin.
Many OTC skincare companies spend heavily on marketing to make the product look attractive to buyers. Medical grade skincare companies focus on the science and ingredients behind the product rather than making the packaging look pretty.
In this "do it yourself" culture, people tend to self-diagnose their own skin condition and select whatever product they believe would work best.  The promises of the OTC product aren't delivered, and it ends up being a waste of money and joining the others in the product graveyard cabinet!  We have all been there.
It is important to have a personal aesthetician who can guide you in your skincare health.  You should get the most value for your money with products that will give you results that you desire.
At the Wake Plastic Surgery MedSpa we offer a variety of medical grade skincare lines including Alastin, Circadia, Revision, Skinbetter, and Elta. Our aestheticians, Kristi and Carla, will work closely with you to develop a skin care regimen unique to your skin. Give us a call today to schedule your comprehensive consultation!