Dermal Filler 101
Posted October 12, 2021 in Filler, Injectables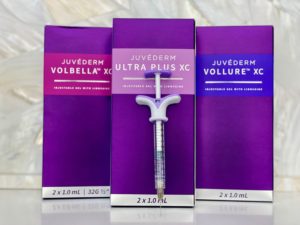 What is "Dermal Filler" and how does it work?
Dermal fillers are gel-like substances that are injected into the facial tissue to diminish facial lines while restoring lost volume and fullness to cheeks, chin, marionette lines, facial folds, and lips. At the Wake Plastic Surgery MedSpa, we use dermal fillers that are made from a modified form of hyaluronic acid (HA) which is a naturally occurring sugar in your body. The results of dermal filler typically last anywhere from six months to two years, depending on the filler type and where it is injected.
What is the difference between Dermal Filler and Botox?
Botox is a purified form of botulinum toxin that has been FDA approved since 1989 and cosmetic since 2002. Over 100 million vials have been distributed worldwide. Botox has the most FDA approved indications for cosmetic use (3) and therapeutic (11).
Dermal Fillers are used to plump, and Botox is used to smooth. Botox temporarily paralyzes the tiny muscles around the injection site to smooth wrinkles and lines such as the crow's feet, forehead wrinkles and in between the eyes. The duration of results varies due to metabolism – typically lasting anywhere from 3-6 months.
What are my Dermal Filler options?
At the Wake Plastic Surgery MedSpa, our Dermal Filler portfolio includes the FDA approved Juvéderm family made by Allergan – Voluma, Vollure, Volbella, Juvéderm Ultra and Ultra Plus. We also carry FDA approved Restylane-L made by Galderma. Each dermal filler that we carry has a unique property to it and is designed for certain areas of the face. Stay tuned for our next Blog post Dermal Filler 201, where we will dive deeper into what each dermal filler does and where it is placed.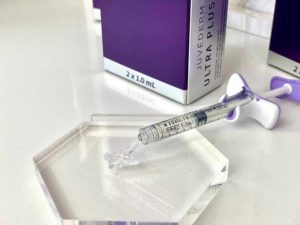 Is Dermal Filler expensive?
The answer is "Yes" to most people! Our line of Dermal Fillers range in cost from $595 – $825 per syringe. With cost and patient satisfaction in mind, we want our patients to get the outcome they desire and expect with Dermal Fillers. That starts with a thorough consultation with the nurse injector. Together, the patient and provider determine what is needed to get the results the patient desires. We offer a Comprehensive Skincare Plan that includes savings on Dermal Filler, Botox, skincare treatments and high-quality effective products.
The Allē program is a way for you to earn rewards and redeem for savings on future treatments when you purchase Allergan products which included BOTOX® Cosmetic, JUVÉDERM VOLUMA® XC, JUVÉDERM® XC, JUVÉDERM VOLBELLA® XC, JUVÉDERM® VOLLURE™ XC, and LATISSE®. Click here to sign up for Allē now!
Filler Myths –
"Filler makes you look fake." – Dermal Fillers are made to replace volume loss as we age. When done correctly by an experienced medical professional, you will look natural and rejuvenated. In line with the WPS mission, we inject with the goal of creating natural results that will refresh your look. We take a conservative approach avoiding the "overdone" look because we can always add more if the patient desires this.
"Getting filler really hurts." – Our injectors, Kristi and Emily, will help you feel at ease during your appointment. They are both trained and experienced in proper injecting techniques to minimize discomfort. A topical numbing ointment can also be applied prior to most areas to avoid concerns of pain.
"Dermal filler is permanent." – Fillers made with Hyaluronic Acid are dissolvable with Hyaluronidase, a naturally produced enzyme found in our bodies. We have not and do not use any permanent fillers.
Where do I start?
Give our office a call today to book a consultation with Kristi or Emily. They will get you started on the right path to achieve your desired results. You may also go to our "Contact Us" page on our website to fill out a short inquiry form and begin your rejuvenation journey.