Dermal Filler 201
Posted November 02, 2021 in Filler, Injectables
At Wake Plastic Surgery, we often get questions about the differences between each of our dermal fillers and where they are used. In our last blog, Dermal Filler 101, we introduced dermal filler, some myths, and how it differs from Botox®. Let's talk more about what each dermal filler does and where it can be used!
Juvéderm® is the world's number one selling dermal filler collection.  The Juvéderm® Collection offers a wide range of long-lasting treatment options that are FDA approved for cheeks, chin, facial lines, wrinkles, and lips including:
Juvéderm® Voluma™ is specifically designed to volumize. Voluma is tailored to be a firm, structural gel and is the number one selling and longest lasting FDA approved Hyaluronic Acid (HA) dermal filler. It is the first and only FDA approved HA filler to add volume to the cheeks and shape the chin.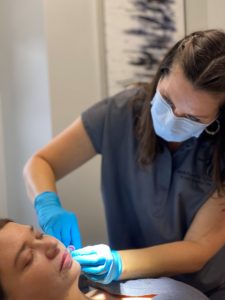 Juvéderm® Vollure™ is designed to correct moderate to severe facial wrinkles and folds with results that may last up to 18 months. Vollure is a balanced gel that adds subtle volume. It
is tailored with a unique balance of gel firmness and cohesivity.
Juvéderm® Volbella™ and Juvéderm Ultra XC are both designed to increase lip fullness, with the versatility to treat lips and perioral lines, commonly known as smoker lines that occur around the mouth. Volbella and Juvéderm Ultra are tailored to add subtle volume with results that may last 6 months to 1 year.
Juvéderm® Ultra Plus XC adds volume to help create plump, natural looking lips that may last 6 months to 1 year. It is also used in the nasolabial folds, which are commonly known as smile or laugh lines that run from the sides of your nose to the corner of our mouth.
Another filler we carry at the Wake Plastic Surgery MedSpa is Restylane® L. It is an FDA approved clear gel formulation of hyaluronic acid designed for the correction of moderate to severe wrinkles and folds. It is also used to plump lips. Restylane offers results that may last for up to 18 months.
Want to continue this conversation at a personal consultation? You may visit the "Contact Us" page on our website to fill out a short inquiry form or call our office today to schedule an appointment with one of our injectors, Kristi and Emily!